EMP17 Werkboek 2007 - 2010 Klassiek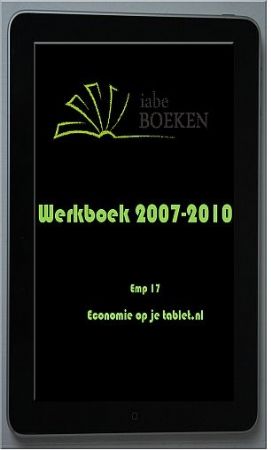 Author: Drs T.A. van der Kleij en Ramon Wonink
Price: €1.99 (Euro)
Het werkboek is samengesteld aan de hand van de examenopgaven VMBO 2007 - 2010 opgesteld door het Cito te Arnhem. De uitwerkingen zijn apart verkrijgbaar onder bestelnummer EMP 18. Ecl. 6% btw
Drie jaar heeft de ontwikkeling van dit volledig mavo-economieboek (en methode) voor op een tablet, laptop of pc geduurd. Als reactie op de veelal verouderde schoolboeken, met een onnodig drukke en kleurige opmaak en voorzien van veel overbodige informatie.

Je kunt je afvragen of lesgeven uit papieren boeken verouderd is maar die discussie laten wij voor wat het is. Een digitale methode is actueel en kan prima bestaan naast de geprinte versie maar kan aanzienlijk goedkoper zijn.
Overbodige informatie kan achterwege blijven en de leerling kan op de door hem zelf gekozen beelddrager studeren op de door hem zelf gekomen selectie. De docent kan leerlingen in hoge mate overlaten aan zelfstudie en eenvoudig differentiëren per leerling. Zo kan iedere leerling individueel worden meegenomen naar een hoger plan. En wordt lesgeven in "leren" leren

De uitwerkingen zijn apart verkrijgbaar onder bestelnummer EMP 18.
Click for more eBooks from this publisher.